From  https://www.anandtech.com/show/15589/amd-clarifies-comments-on-7nm-7nm-for-future-products-euv-not-specified
Title: AMD Clarifies Comments on 7nm / 7nm+ for Future Products
TSMC has three high-level versions of its 7nm process:
N7, which is the basic initial version using 'DUV' only tools (so no EUV),
N7P, which is the second generation version of N7 which is also only DUV
N7+, which is an EUV version of N7 for a number of layers in the metal stack
This nomenclature has been finalized within the past year or so.
N7+ EUV is the superior process node when compared to N7P DUV. Smaller process nodes are based on EUV e.g.
EUV = Extreme ultraviolet lithography
DUV =Deep ultraviolet lithography
———
From https://fuse.wikichip.org/news/3398/tsmc-details-5-nm/
TSMC emphasized the extensive use of EUV with this process. It's worth pointing out that this is really TSMC's first 'main' EUV-based process. TSMC N7 and N7P nodes are DUV-based. TSMC first production EUV process is the N7+ but that node is really an orphan – not compatible with the prior nodes and no clear migration path forward other than going back to this node.

On the other hand, N5 is designed as the main migration path from N7 for most customers. TSMC says that more than 10 EUV layers are used to replace at least 4 times more immersion layers at cut, contact, via and metal line steps. This is comparing their EUV-based N5 node to a hypothetical N5 node that utilizes multi-patterning.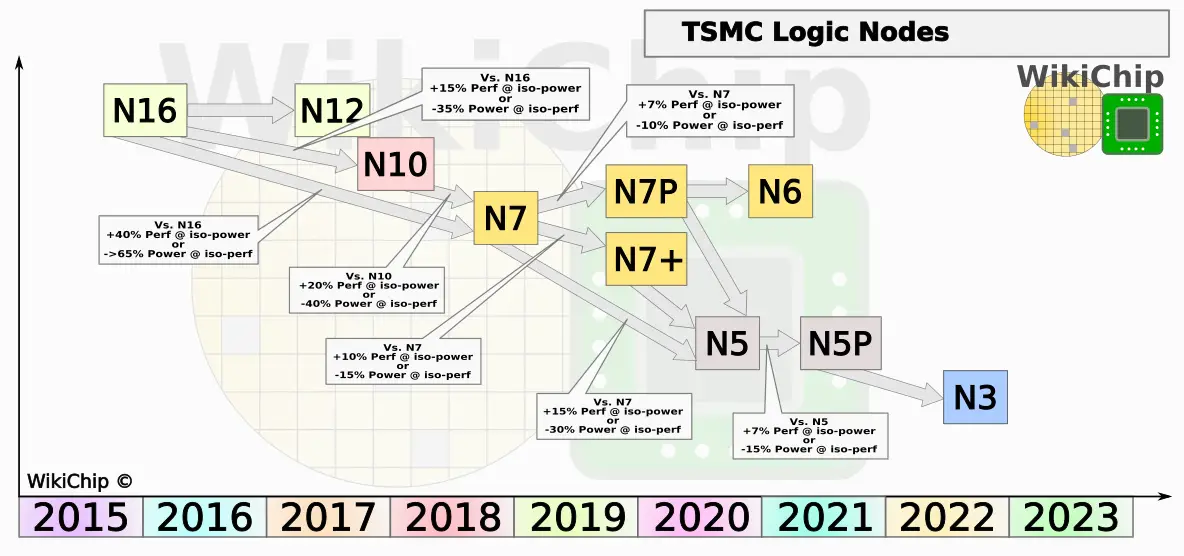 N7P yields 7% performance increase or 10% reduced power consumption when compared to N7
———
From https://www.techspot.com/news/80237-tsmc-7nm-production-improves-performance-10.html
TSMC's N7+EUV has 10% perf/watt and 20% density improvements and N7P's improvement is less than N7+. LOL
We know AMD didn't use EUV N7+ which leaves the second-generation N7P.
Compare the following AMD PR slides:
Note AMD credited 7nm process gains for RDNA 1
VS
Note AMD did NOT 7nm process gains for RDNA 2
In terms of the majority pref/watt improvements, AMD did NOT attribute RDNA 2's improvements to just N7P.